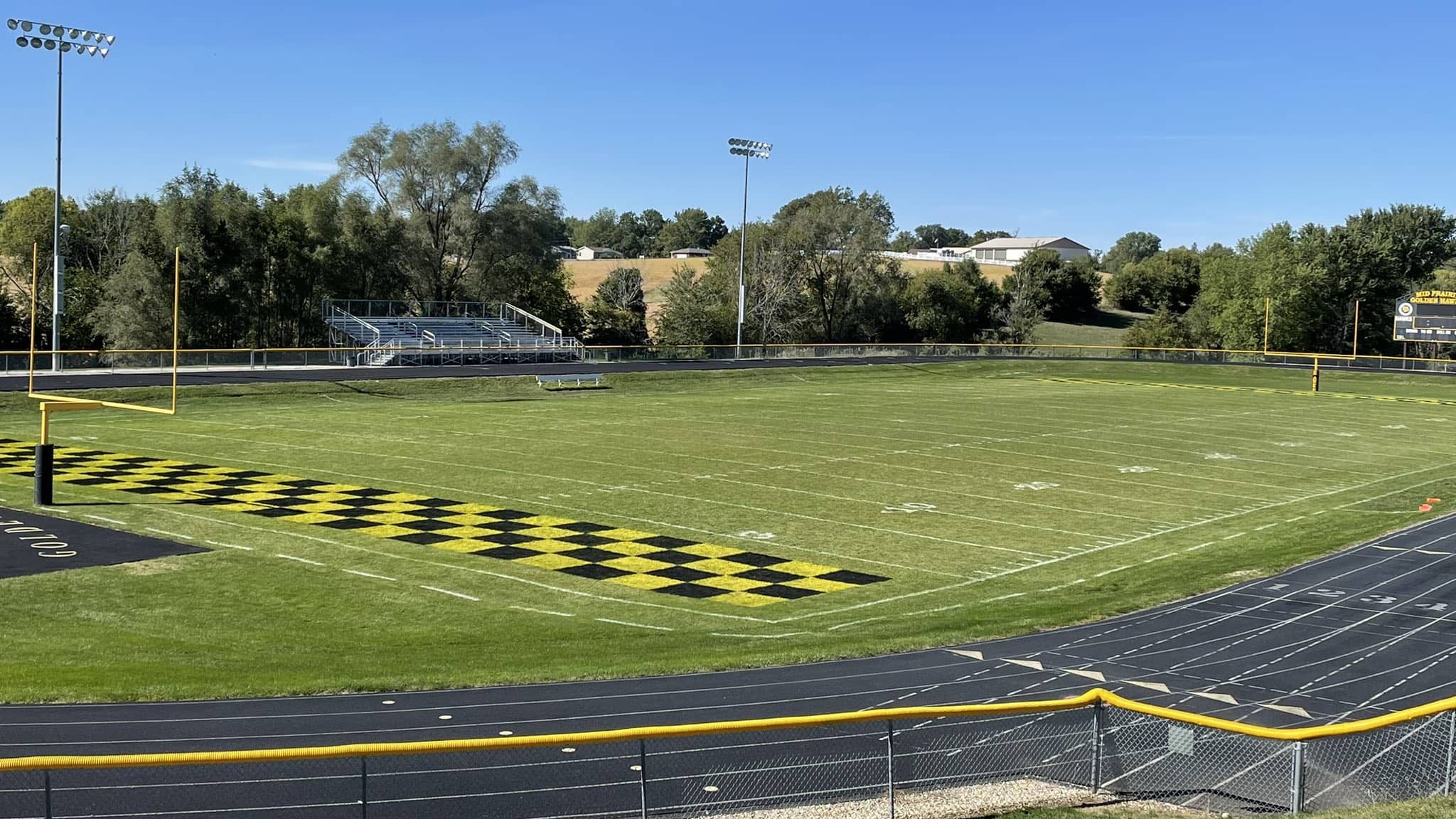 Photo courtesy of Mid-Prairie Football Social Media
This week, the No. 9 Mid-Prairie Golden Hawk football team celebrated their 63rd annual Homecoming. Unfortunately for the Hawks, it was No. 1 Williamsburg that celebrated a win at Dwight G. Sattler Field Friday 56-7. In a game heard on AM and FM KCII, there were some miscues early that included Lukin Rediger snaring an interception thrown by the Raiders Carson Huedepohl and Williamsburg responding with a blocked punt. The Mid-Prairie special teams mistake gave the Raiders a short field, which they cashed in for six when Huedepohl finished a three play, 16 yard drive with a 10-yard scoring run. The Golden Hawks would answer immediately with an impressive march against arguably the best defense in the state, pounding the Raiders down the field on a 17-play, 68 yard drive that finished with a three yard Braden Hartley touchdown run to even the game at seven.
From there it was all Williamsburg. On the ensuing kickoff, state kick return leader Rayce Heitman flew 75 yards for a touchdown to give the Raiders the lead right back. Williamsburg followed that by sending the Hawks three and out and then dealing a huge blow on fourth and 15 with a 35 yard touchdown pass from Huedepohl to Derek Weisskopf to push the advantage to 21-7 at half. Out of the break, the Raiders went to the ground game with Gable Dayton finishing a pair of drives, one 55 yards, the other 38 with touchdown runs to make it 35-7. On Mid-Prairie's next drive they committed their first turnover over the night with Clayten Steckley recovering a Hartley fumble at the Hawk 31. Cain Brown ended the Raider drive with a goal line interception that he brought back into Raider territory after a penalty, before the Hawks gave it back with a red-zone pick of their own. The Raiders added three touchdowns in the game's final 15 minutes, one each on the ground for Huedepohl, Nile Sinn and Kellen Cockrell. In the postgame, Golden Hawk head coach Pete Cavanagh talked about what he saw as the difference and what his team can take to build on. "Guys up front were playing well early. Our fullbacks Jarron (Thomas) and Lukin (Rediger) did a nice job and Braden (Hartley) ran hard. It was a nice change of pace. Later in the game we tried the same set and consistently we couldn't get enough yardage on first down to be successful. Lukin (Rediger) had a great break on a ball early to make a nice diving catch for an interception to give us a little momentum there. Cain (Brown) down on the goal line jumped a slant route. We need to continue to do that. I don't think the score represents how the game went. You have to own it and move on. Big plays, missed tackles, and turning the ball over. Fourth and forever and we gave up a long one. It happens, but that kid's also pretty good too. Give them credit. They made some plays and we didn't. That's what happens against the No. 1 ranked team in the state."
Unofficially, Mid-Prairie was out-gained on the night 379 to 137 in total yards including 256 to 23 after half. Hartley led Mid-Prairie with 27 carries for 112 yards and a touchdown. Each team committed two turnovers. With the win, Williamsburg improves to 6-0 and remains unbeaten in district play at 3-0, Mid-Prairie is 4-2 and falls to 2-1 in district with a trip to Centerville next week.