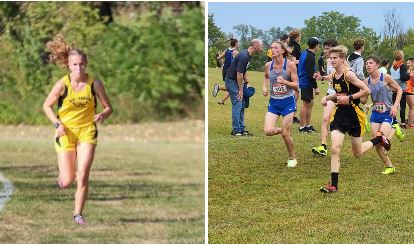 It was a busy Monday night with some drama at the Iowa City Kickers Complex for the annual Creek Classic. The Mid-Prairie Golden Hawks brought home the most gold, including a pair of individual titles and a team championship. The Golden Hawk girls were meet champions with their score of 33, tying CCA on their home course but beating the Clippers on a tiebreaker with Mid-Prairie sixth runner Amara Jones finishing 18th, ahead of the Clippers sixth runner in 20th. Danielle Hostetler was meet champion with her time of 19:42, outpacing the field by 47 seconds. Other Mid-Prairie finishers included Abby Fleming third, Phoebe Shetler seventh, Greta Sieren ninth, Dessa Poll 14th, Tabitha Evans 25th, Hannah Rodgers 40th, Kali Miller 41st, Alaina Safly 60th, Paityn Jennings 61st and Annette Witthoft 69th.
The Mid-Prairie boys were team runners up with their score of 47 points, Clear Creek Amana won their home meet with 23 points. Emmett Swartzentruber led the Golden Hawks, winning his first ever individual meet title in a time of 17:33, he spoke with KCII Sports about the race, "I was going out and trying to stay at my pace and then keep that pace. I held my pace all the way through. This felt really good. I was really happy. I was exhausted but felt really good. At about the two-milish mark, on one of the turns, I could see the second place guy out of the corner of my eye and I was like 'okay, I got a pretty good lead on him, just hold this'."
Other Golden Hawk finishers included Preston Yutzy fourth, Blake Creed 15th, Nathan Wallington 20th, Jordan Stock 25th, Daniel Rodgers 26th, Jesse Stultz 27th, Thomas Flynn 29th, Mose Yoder 34th, Luke Brokaw 35th, Jacob Donaldson 36th, Andrew Stultz 39th, Sawyer Hough 59th, Adrian Sanchez 76th, Josh Keough 84th, Alex Castillo 88th, Owen Zirkelbach 90th, and Evan Reschly 99th.
The Winfield-Mt. Union boys were fourth with 108 points. The Wolves were led by Kohlby Newsom in 13th with a time of 18:52. Other finishers for WMU included Jacob Haines 16th, Gabe Hemsworth 38th, Nicholas Sparrow 43rd, Bowen Thomson 49th, Ty Scopril 55th, Sheaden Adams 58th, Jadin Beeding 68th, Preston Prior 72nd and Gabe White 87th.
For the Lady Wolves, they were sixth with 170 with the top finish coming from Afton Wilkerson in 53rd at 27:35. Other WMU runners included Karilyn Titus 56th, Emma Richardson 65th, Maggie Hutton 68th, Olivia Martinez 72nd and Bayla Thomson 78th.
The Sigourney Savages also competed but did not post a team score for the boys or girls. The Savage girls were led by Ellie Yates in 16th with a time of 23:00, Reanah Utterback was 24th and Addie Yates 36th. For the Sigourney boys, Troy Klett led the way in 17th with a time of 18:57 followed by Owen Morrish in 77th and Dawson Meyer in 79th.