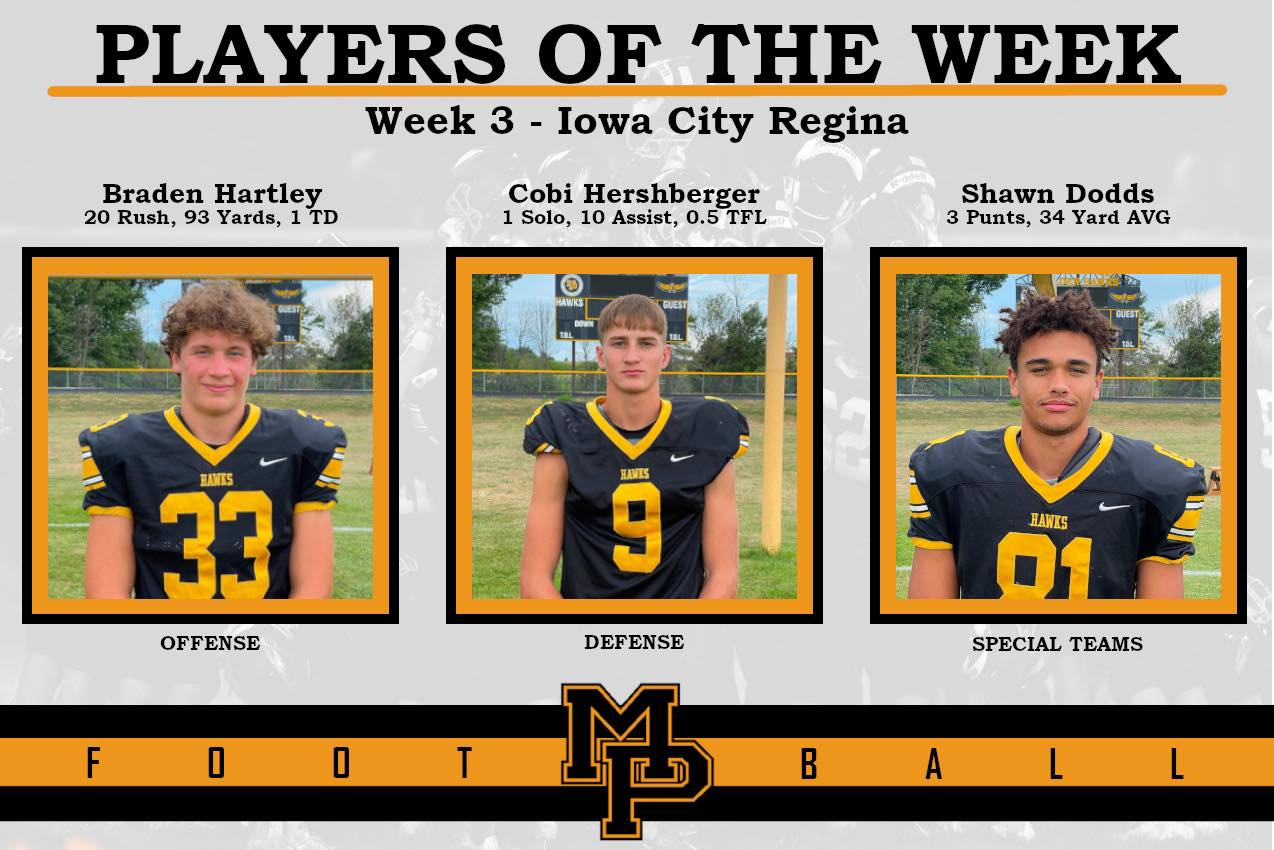 Player of the Week Selections, Stats and Photo Courtesy of Mid-Prairie Football Social Media
For the second straight week, the Mid-Prairie Golden Hawk football team will travel Friday, this time to Eddyville-Blakesburg High School to take on the Rockets in the Class 2A District Six starter for both teams. Mid-Prairie is 2-1 coming into action after a 35-7 loss at Iowa City Regina last week. The Hawks had a tough night against the Regals, outgained 280-187 and turned the ball over four times. Braden Hartley led the way offensively with 20 carries for 93 yards and the lone Hawk touchdown. Collin Miller and Dylan Henry each had an interception and Cobi Hershberger had six and a half tackles to lead the Mid-Prairie defense. On the year, the Hawks score 19 per night and give up 24. They average 285 yards per night, 226 of that on the ground. Individually, they are led by Hartley with 82 carries 510 yards and four touchdowns on the ground. Through the air, Collin Miller is 12 of 40 for 174 yards, four touchdowns and five interceptions. His favorite target is Cain Brown with seven grabs for two touchdowns and 146 yards. On defense, Brown has a team best 22 stops and two interceptions. Hershberger, Miller and Dylan Henry all have an interception, Grady Gingerich has a fumble recovery.
Eddyville-Blakesburg is 0-3 this year with losses to Pleasantville, Chariton and Albia in non-district by a combined 90-7 score. Last week against the Trojans they fell 35-7. They were outgained 372 to 221 in total including 211 to 41 through the air. Jesse Cornelison led the Rockets with 12 carries for 111 yards and the first EBF touchdown of the year. On the season the Rockets give up 30 points per game and score just two. Averaging 147  yards per game 110 of that on the ground. Individually, they are led by Cayel Riley through the air at 10 of 22 for 70 yards and three interceptions. Vinny Weber, Blake Jager and Jackson Taylor all have three catches this year for a combined 90 yards. On the ground it's Cornelison with 37 carries for 183 yards and the lone touchdown. Defensively, Cornelison has 25 and a half tackles to lead the way and a team best three interceptions. Mid-Prairie has won three straight over the Rockets by a combined 159-7 score, including a 42-0 victory in Wellman a year ago. The Hawks are 11-1 all-time against EBF. You can hear all of the action between the Hawks and Rockets live tonight from Ike Ryan Field in Eddyville on AM 1380, FM 102.5 and KCIIradio.com, beginning with the Washington HyVee Pregame Show at 6:30p.m. and kickoff at 7.