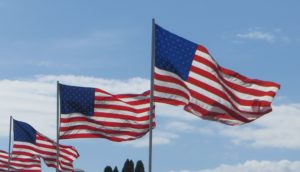 While some residents may be planning barbecues, camping trips, and other get-togethers for Memorial Day Weekend, one Washington group is reminding the public why this and other national holidays are celebrated this summer.
The Optimist Club of Washington is seeking sponsorships for their Avenue of Flags display that is installed on Washington Street from Hills Bank to Sunset Park and on South Iowa Avenue. Around 150 flags are flown annually for Memorial Day, Flag Day, Fourth of July, Labor Day, and Veterans Day, and while the group has been approached to install flags at homes not on the route, club member Jim Cluney says they would appreciate if those residents help make their chosen route more robust, with single-year sponsorships available for $40 and two-year sponsorships for $75. While monetary support is appreciated, Cluney hopes the club can also get more local organizations to help them put up the display, "We're trying to get the fire department and the police department, they've both shown interest. Have a day when the flags go out, hey this is represented by the police, or hey this is represented by the fire department, or it could be any group or club, scouts, whatever so we just need help."
Cluney mentions that the Avenue of Flags is key publicity for the optimist club, whose mission is to serve the youth in their community through various projects. If you would like to sponsor a flag, volunteer, or learn more about the club, contact Cluney at (319) 653-1735 or Don Pfeiffer at (319) 461-9939.