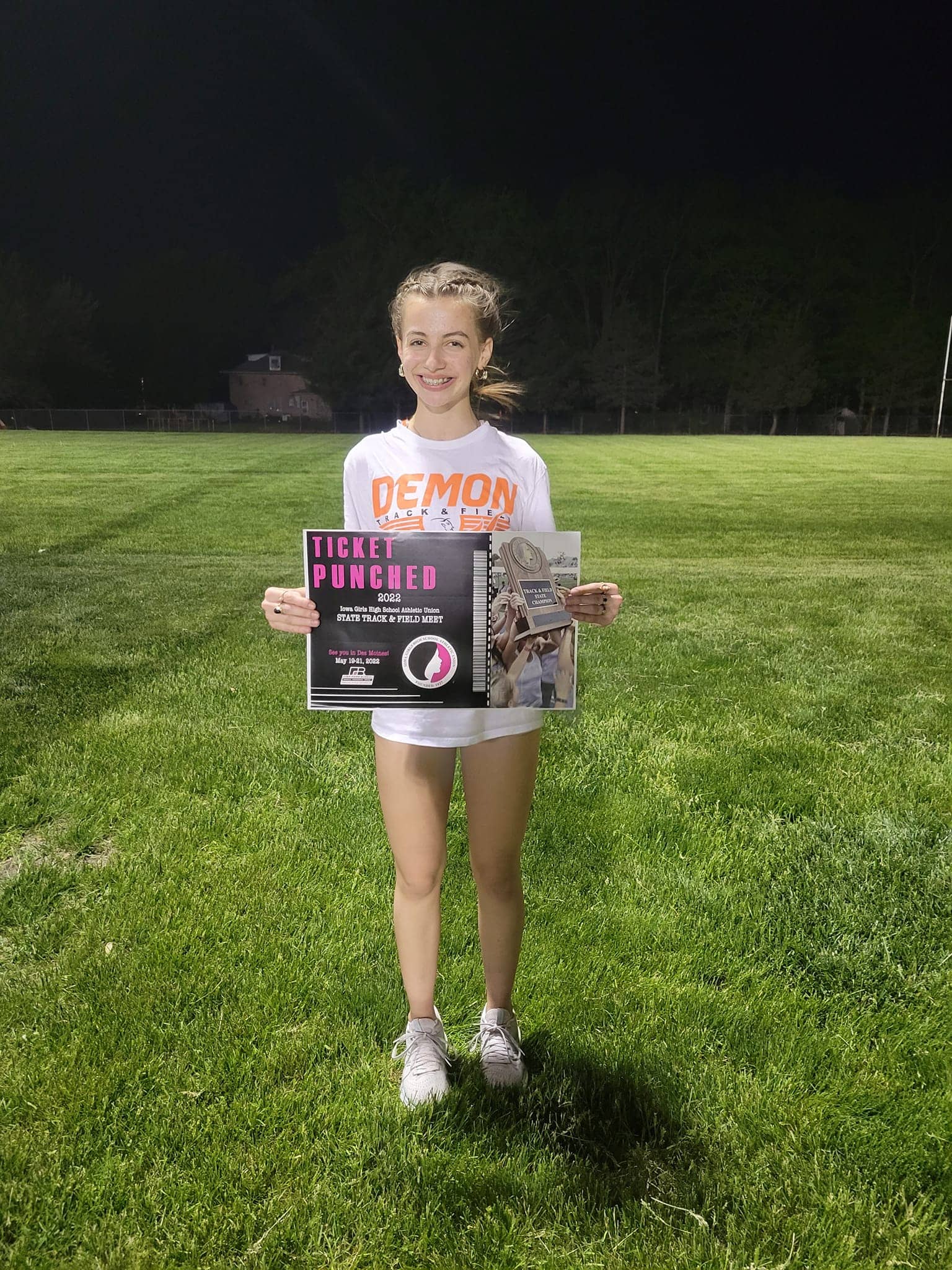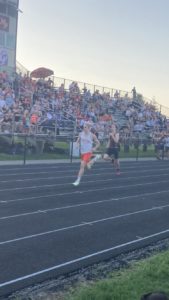 The bus to Des Moines next week will be full of Demons, as several Washington track members punched their ticket to state by cracking the top two at Thursday's class 3A district meet in Mount Pleasant. 
The Washington boys were not phased by the hot weather and cleared their way to a team title with 192 points, 88 more than second place Fairfield. A total of 15 individuals will compete at state across 12 events with many of them qualifying multiple times. Lance Sobaski and Micah Rees put up big points in the long distance events going one-two in the 1600m and 3200m while Sobaski also cruised to an 800m title. Sobaski anchored the winning distance medley team (3:39) with Austin Rebling, Jacob Miller, and Ethan Patterson also being a part of the relay. Elijah Morris will try to defend his 2021 state title in the 400m by cruising to victory (50.48) and he also made it in the open 200 (22.43). Morris anchored the sprint medley that got through (1:36) that also featured Patterson, Rebling, and Miller and the junior helped the 4x400m cap off the night with a title (3:31). This team also consisted of Logan McDole, Alec Ulin, and Evan Miller. 
Morris broke down his open events. "It wasn't really about time today, but more about place. It is always interesting switching up between that throughout the season and it is a different thought process that I have started to get down this year. I ran the first half of my 400 comfortably and was saving some for the kick. It was super cool to have my buddy from Fairfield place second and go to state in the same event."
The shuttle hurdle relay positioned themselves in the runner-up spot with Tayven Stuart, James Strabala, Mason Morgan, and Rebling moving on. Brayden Hartman did his thing in the throwing events winning the shot (51'5.5'') and discus (150'10'') while senior Kole Williams (135'0'') is also advancing placing second in the discus. Kasen Bailey will be a first time qualifier in the high jump clearing 6'0'' to place second. 
For the second straight year Abigail Kleese will represent the girls at the Blue Oval by placing second in the 800m run, the same event she qualified for as a freshman. She clocked in at 2:29 and was elated post race. "As soon as I crossed the finish line it was a mix of all emotions. I could hardly breathe, I was happy, but then I was in a lot of pain. My night before this race was kind of discouraging so it was nice to bounce back and qualify again in the open 800." Other top performances included Quincy Griffis third in the 3000m, the 4x800m relay third, and Ally Rees fourth in the shot. The Demons placed sixth with 61 points and Clear Creek-Amana won with 61. 
Washington has the chance for a few more events to advance after the full qualifier list is revealed on Saturday. The state meet runs Thursday, May 19th through Saturday, May 21st at Drake Stadium in Des Moines. Listen to various state qualifying Demons on Saturday's KCII Radio Coaches Corner. 
Full results can be found here.