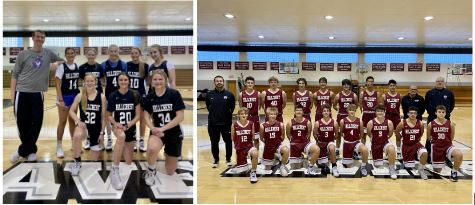 It was a scheduled evening of celebration for the Hillcrest Academy Ravens when they hosted the Lone Tree Lions for a Southeast Iowa Superconference basketball doubleheader on senior night at Hillcrest Union Thursday. The Lone Tree girls were not interested in attending the party as they scored a 50-44 win. Each team enjoyed a 7-0 run in the game's first frame with the Lions holding a five point lead after one and a 25-16 advantage at the break. The Lions found some more breathing room, winning the third quarter 12-9 before Hillcrest made a push in the fourth, cutting a Lone Tree lead that was 16 at it's largest down to five before the Lions finished with the win. After the game, Lone Tree head coach Ryan Shelman talked about his team finishing on the road and his key players. "Our girls did a good job executing. A lot of big things from a lot of girls tonight. We still have a lot of young girls learning. We learned what it takes in some of these tight games, how to pull the ball out,  play a little bit of ball control. Chloe Mills took a huge charge for us late in the game, Kasey Chown hit some free throws for us. Riley Krueger was really aggressive tonight. I thought Avery Lisk did a great job at the point. Cate Sexton and Riley Shield have been awesome on the glass. Kinley Hayes did a good job for us tonight."
The Lady Lions outrebounded the Ravens by nine and won the turnover battle 22-16. Kasey Chown led Lone Tree with 20 points, Chloe Mills also got to double figures with 10 all in the second half. Esther Hughes had a monster night in her final home game, going for 28 points, 19 of those after half. Malia Yoder got to double figures with 10. The Hillcrest girls honored seniors Norah Yoder, Esther Hughes, Vlada Conea and Leah Bontrager. The Lions are now 7-14 overall, Hillcrest drops to 1-17. They each play Superconference Shootout games Friday with Hillcrest at New London and the Lions host WACO.
In the boys contest, Raven forward Grant Bender. Went. Off. The Hillcrest junior put up a career high 30 points leading the Ravens to a 58-40 win. An early 10-2 run gave Hillcrest a first quarter advantage and they led 17-11 after one and 30-21 at half. The Ravens continued to pull away in the second half outscoring the Lions 28-19 after intermission. After the game head coach Dwight Gingerich talked about his junior star Bender and other key players in the win. "Grant (Bender) was able to do some damage and hit a big bucket again at the end of the quarter. He seems to have a knack for doing that. He's improved defensively as well this year. He stays down, he's patient and because of that had some nice blocks tonight. Offensively his passing was also great tonight. When he drives he attracts attention and I think he had four assists. That's great to see. Jace Rempel came in and did a really nice job, played steady throughout the game and hit some big shots."
To go along with Benders big night, Jace Rempel got to double figures with 12, including a trio of three pointers. The Ravens won the glass by seven and forced 16 Lion turnovers. Lone Tree's production came from the Cades, Patterson and Shield, each finished with eight. Hillcrest honored five seniors on the evening Noah Miller, Quang Huynh, Oscar Calix, Aiden Krabill and Alex Niemeyer. The victory moves the Ravens to 14-4 on the year, Lone Tree is now 5-14. Both teams have their next game in the Superconference Shoot out Saturday, Hillcrest travels to WACO and Lone Tree sees Holy Trinity.