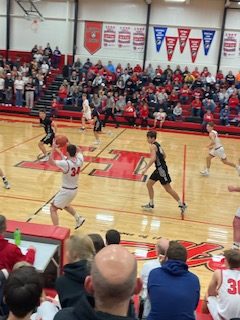 It was round two between KCII area schools Hillcrest Academy and Highland in Riverside on Tuesday with the Southeast Iowa Super Conference basketball doubleheader ending in a split. 
As heard on KCII, the quick guards of the Highland girls caused Hillcrest troubles in the full court and the turnovers helped the Huskies jump out to a 12-5 lead after one and 24-8 at the break. A 24-16 close to the game finished with a Huskie season sweep of the Ravens in a 48-24 final score. Abbi Stransky got it done at both ends of the floor finishing with a game-high 18 points and Sarah Burton cleaned up inside with 14 points. Esther Hughes led the Hillcrest attack with 13 points. Huskie Head Coach Jody Fink tells KCII Sports they wanted to dictate pace. "We were trying to get them to speed up and trap them in the press. I thought we did a good job of that. The intensity Abbi Stransky brought in the first half was contagious and that got us going." Highland improves to 10-9 overall and 9-6 in conference while Hillcrest is 1-16 and 0-14 in the division. 
The boys' game had a similar start with Hillcrest turning the Huskies over in the full court with a quick 6-0 spurt in the span of 15 seconds. It was 11-5 after one and ballooned to 39-18 at the break including a pair of buzzer beaters by Grant Bender. The advantage got as high as 31 before a 69-49 Hillcrest road victory. Seth Ours was cooking from deep hitting five threes and finishing with a game-high 21 points. Bender was not far behind with 18. Highland's Trevor McFarland had a 13 point outing to lead the red and white. Raven Head Coach Dwight Gingerich says it was good to get Ours going. "He hasn't shot like that for awhile so it was great to see Seth get his stroke back. We had really good flow as a team and that helped him out. The guys got the ball to him to knock some shots down and he was able to drive in the lane to finish. He played really  well tonight." The Ravens are now 13-4 and 11-3 in the division. The Huskies fall to 3-15 and 3-12 in the conference. 
Highland held their senior night with Emma Soukup and Kenzi Hora being recognized for the girls' team and Connor Grinstead, Brenton Bonebrake, Kaige Vonnahme, Jaden Schmid, McFarland, Devin Lovetinsky, and Chase Schultz on the boys' team.