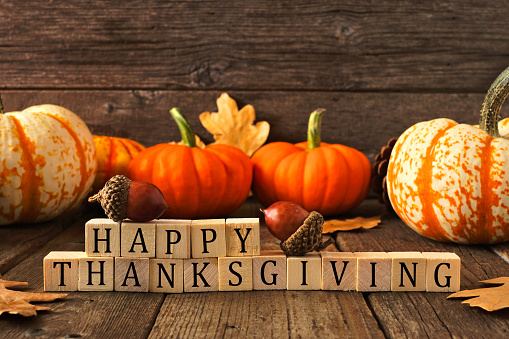 Happy Thanksgiving greeting on wooden blocks against a rustic wood background with pumpkins and autumn leaves
Churches in the Wayland community are inviting residents in southeast Iowa to join them for their annual Thanksgiving Dinner. 
The meal will take place from 11 a.m. to 1 p.m. tomorrow at WACO High School. The menu includes turkey, stuffing, mashed potatoes, gravy, green beans and green bean casserole, sweet corn, sweet potatoes and plenty of desserts. OC Community Church Pastor Greg Stacy shares why the churches come together each year to host this event, "We're doing it to reach out and just fellowship and be thankful for our communities. And just have time to, I guess you'd say, reflect and enjoy each other and have some really good food."
As last year's dinner was cancelled due to the COVID-19 pandemic, Stacy is excited to once again enjoy a meal with his community. There is no charge for the dinner but residents can make a donation. All money raised will go to local food pantries or the WACO High School kitchen. Both dine-in and carry-out options will be available. For more information, contact Pastor Greg Stacey at 319-461-0576.