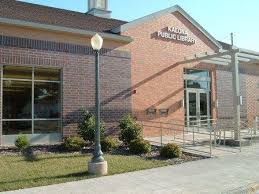 As the Kalona Public Library has seen an increase in Spanish speaking patrons, a new multilingual book reading night has been added to their schedule. 
With the school year underway, the library will be hosting a multilingual book reading on  varying Thursdays each month. Kalona Library Director of Youth Services Olivia Kahler says the program began alongside their typical summer reading program this June, "When we started the summer reading program this year, we noticed that quite a few of the families that signed up did not have English as their first language or their home language. So as they were coming to our library programs and doing our crafts and things I found myself speaking a lot to the children and not the parents because then the children would translate and I thought that this would be something that is needed in our town." 
Hispanic Heritage Month is underway and the library has a full display available with over 50 multilingual books for kids to enjoy and an adult reading section in the works. The  reading sessions begin at 6:30 p.m. with the next event scheduled on October 7th. Bilingual volunteer readers are needed. For more information on the program and volunteering, visit here.