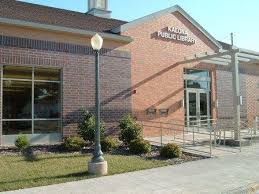 A surplus of donations has sparked an additional book sale at the Kalona Public Library. 
The Friends of the Library will be holding their inaugural fall book sale coinciding with the Kalona Fall Festival on Saturday, September 25th. Kalona Public Library Director of Youth Services Olivia Kahler explains how the idea for the fall book sale came about, "Typically we've only had one in the spring. So we're gonna try and do it twice a year now because we have people come in and ask, 'Do you take donations?' And it's really hard for us to tell them no when our whole storage room is full. So hopefully having two book sales a year is going to solve that problem. So we won't ever have to say no when someone comes in during the year asking if we take donations. If we're able to have a book sale twice a year we should be able to keep the storage area pretty well maintained."
The book sale will begin at 9 a.m. for members of the Friends organization with all members of the public welcome to come at 9:30. Those wanting to become a member are welcome to sign up at the book sale. Hardcover books, dvds and audio books are $1 and paperback books are 50 cents each. The sale will run through the end of September and book donations are welcomed. For more information visit here.