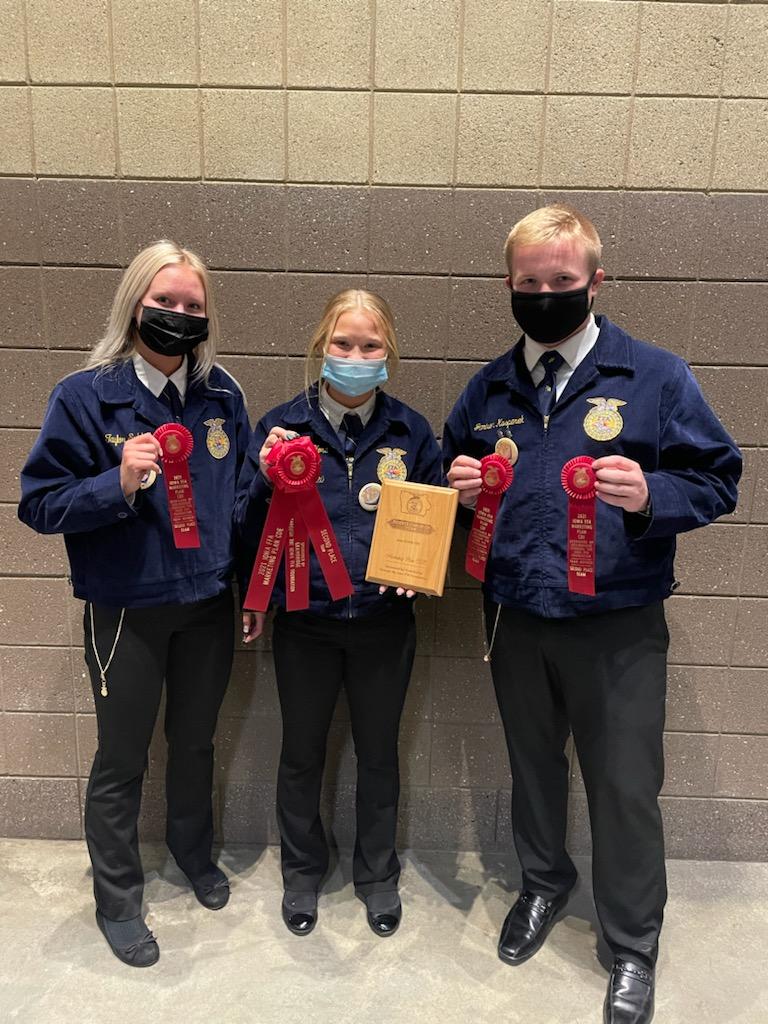 The Highland FFA Chapter traveled to Des Moines last month for the 93rd annual Iowa State FFA Convention at the Iowa Event Center. Highlights included the Highland FFA Marketing Plan Team receiving second place. Mackinze Hora, Jamison Kasparek and Taylor Sublette presented their plan to expand the services provided by Highland Hideaway Hunting. The students worked with landowners Ryan and Kate Giannini to develop a hypothetical plan to sell whole processed pheasants. The project was also sponsored by MacFarlane Pheasants Incorporated of Janesville, Wisconsin who donated processed pheasants and other products to be used as props and samples.
The Ag Sales Team of Carsen Mellinger, Jalynn Brown, Maddie Peiffer and Dakota Longbine received a silver award. The group was given a product and critiqued on making an in-person sales call and presentation.
The Display Team of Jenna Sands, Ellie Anderson and Madi Thoman received a bronze award for their work portraying the FFA Barnwarming event. The Poultry Evaluation Team of Mylei Smith and Delaney Gerot were also bronze award winners as they judged processed products, egg qualities, carcasses and took a knowledge test.