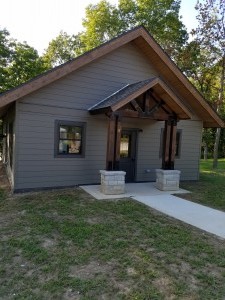 The camping season is shaping up to be a busy one at Lake Darling State Park near Brighton despite a camping rate increase for the first time in 20 years.
The Iowa Department of Natural Resources (DNR) has established a new four-tier pricing structure with rates dependent on park usage, amenities and other factors, after the state legislature passed a measure in 2018 allowing them to set their own fees. Lake Darling Park Ranger Zac Haworth says camping fees have increased, "Camping rates for this year, they did go up slightly from last year, from all years past, rates have not increased since the year 2000 and then as of February 1st of this year, our camping and cabin rates they have gone up just a little bit, but I just encourage people to do their research before they come. That information is also posted down at the campgrounds."
Effective May 1st, camping at Lake Darling with full hookup of sewer, water and electric service will go from $19 to $26 a night, camping cabin rental increases from $35 to $50 a day with modern cabins going from $85 to $110 a day. Haworth says three-fourths of their campgrounds and cabins are reservable from up to three months in advance down to two days depending on availability. The other 25% is first come, first served. Lake Darling will open shower buildings to campers starting April 15th.
*Click here for more information on Iowa State Park camping rates