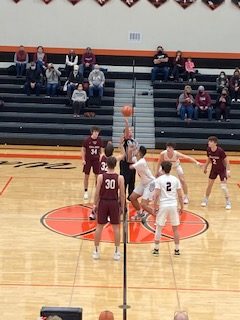 No one said it was going to be easy. A first round Class 3A substate game was nip and tuck from start to finish, but the Washington boys' basketball team made enough plays down the stretch last night to hold off Oskaloosa for a 49-37 win.
As heard on KCII, both defenses came to work in the opening half with a slow going first 16 minutes and the game was tied 23-23 at the break. Kasen Bailey kept the Demon offense afloat in the first two quarters with 12 points. Keaton Flaherty, who did not play in a 20-point loss to Washington earlier in the season, had a stretch of 10 straight Oskaloosa (2-19) points in the second half and the Indians found themselves up three late in the third. A 9-0 Demon run followed that gave the Orange and Black a lead they never relinquished. Oskaloosa was forced to play the foul game late where Ethan Patterson and Bailey knocked down seven of eight free throws to salt the game away. Bailey led the Demons with 20 points and Patterson added 17. Flaherty tallied 18, but was held without a field goal in the final five minutes and Demon Head Coach Collin Stark thought that was the biggest difference. "Keaton Flaherty is a really good player. We talked with Kasen about not helping off of him as much and not allow Flaherty to get the ball. I think the big reason why we stretched the lead out is because their offense goes through him and Kasen did a good job of keeping the ball out of his hands."
Washington improves to 15-6 and advance to Thursday's semifinal hosting Grinnell. The Tigers are 9-13 and upended Clear Creek-Amana 69-58 last night.