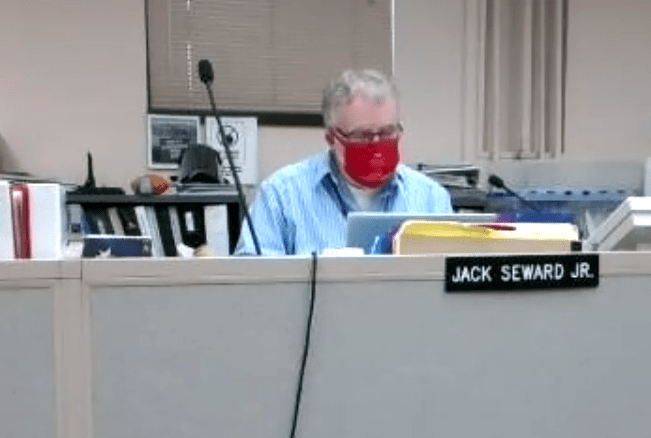 Face masks are strongly encouraged at the Washington County Courthouse. At Tuesday's Washington County Board of Supervisors meeting, whether to require masks was discussed. Multiple staff members said they'd like to see a requirement in place to help protect the public and staff. Auditor Dan Widmer explained there was previously a person stationed at the door to limit the number of people in the building at one time, but that is not the case now. He asked if that would need to be done again to help monitor people. Currently each department has a limit for people and others can wait in the lobby.
Treasurer Jeff Garrett was one who spoke in favor of a mask requirement, "From my perspective it's not that unreasonable to ask somebody to put one on for 10 minutes while they're in this building, but that's just me. And I know everybody's situation is different, and I don't want to get on a soapbox either, but to me that's a pretty simple thing that could make a lot of this a lot simpler."
Supervisor Bob Yoder agreed. Washington County Public Health Director Danielle Pettit-Majewski said it would increase safety for staff, and she mentioned the Henry County Courthouse had to temporarily close due to COVID-19.
Governor Kim Reynolds announced guidelines on Monday stating that masks are required in public places when individuals are within six feet of each other for 15 minutes or longer. Supervisor Jack Seward said that masks should be strongly recommended, and people should follow the governor's guidance.
Garrett said it is not practical to measure how long people have been in the office, "I have people that come to my counter that some take more than 15, some take less than 15. Do I time watch everyone and time everyone, and decide who should have a mask and who shouldn't? I mean, it just makes everything harder to me."
Seward replied, "Yes, Jeff, if they're going to be there dealing with one of your employees for 15 minutes, or even for 10 minutes, if they get to the 10-minute mark and they're not wearing a mask, if you say you must put a mask on or you must leave. And then if they don't leave, then call 911."
Garrett responded, "That's more problematic than just wearing a mask, in my opinion."
The board decided to have signs up showing six feet of distance and encouraging people to wear masks.
As of Tuesday, Washington County had 1,132 confirmed cases of the virus, 12 deaths, and 604 people have recovered. Over 200 of those cases have been confirmed in the last week. The 14-day positivity rate for the virus Tuesday in Washington County was 18.8%. Statewide there have been 2,026 COVID-19 deaths, 35 people died from Monday to Tuesday.