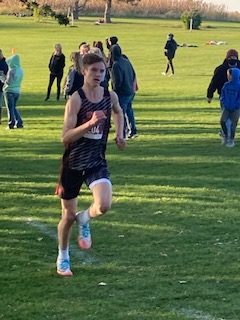 If there was a "Big Man on Campus" today at Washington High School, that title would certainly go to Lance Sobaski.  In front of a home crowd at Washington Golf and Country Club, the junior made history last night by placing first at the Southeast Conference Cross Country Meet to become the first Demon boy ever to accomplish such feat. 
Sobaski was being pushed for awhile by Fort Madison's Austin Miller, but the junior pulled away halfway through and crossed the finish line in 16:54. Miller finished 10 seconds slower in 17:04. In true competitor fashion, when asked what being a conference champ means to him Sobaski had a killer response, "It would feel a lot better as a two time conference champ next year." Head Coach Stefanie Haworth says Lance is such a calculated runner. "He ran a smart and controlled race to pull away from the Fort Madison runner after the first mile. He did exactly what he needed to do. To be the first conference champ in school history is a great accomplishment and we are super proud of him."
The Demon boys placed fourth out of six as a team with 76 points while the Bloodhounds won with 45. Freshman Micah Rees also cracked the top 10 to receive a medal by placing 10th in 17:58. Other finishes included Cameron Vongpanya 19th (19:07), Elijah Morris 21st (19:15), Drew Horak 25th (19:28), Peyton Snakenberg 26th (19:34), and William Kennedy 33rd (20:16). 
The girls had a strong showing by finishing second with 50 points and Mount Pleasant took home the crown with 39. Two Demons received medals in Abigail Kleese placing sixth with a time of 21:55 and Hannah Rees in seventh crossing the finish line in 22:02. Other runners included Cloe Telleen 11th (22:32), Taylor Bartholomew 15th (23:04), Josie Tanner 16th (23:11), Molly Klinzman 18th (23:18), and Grace Voss 19th (23:20). 
The Demons now prepare for a class 3A state qualifier on Wednesday when they make a trip to Monticello.