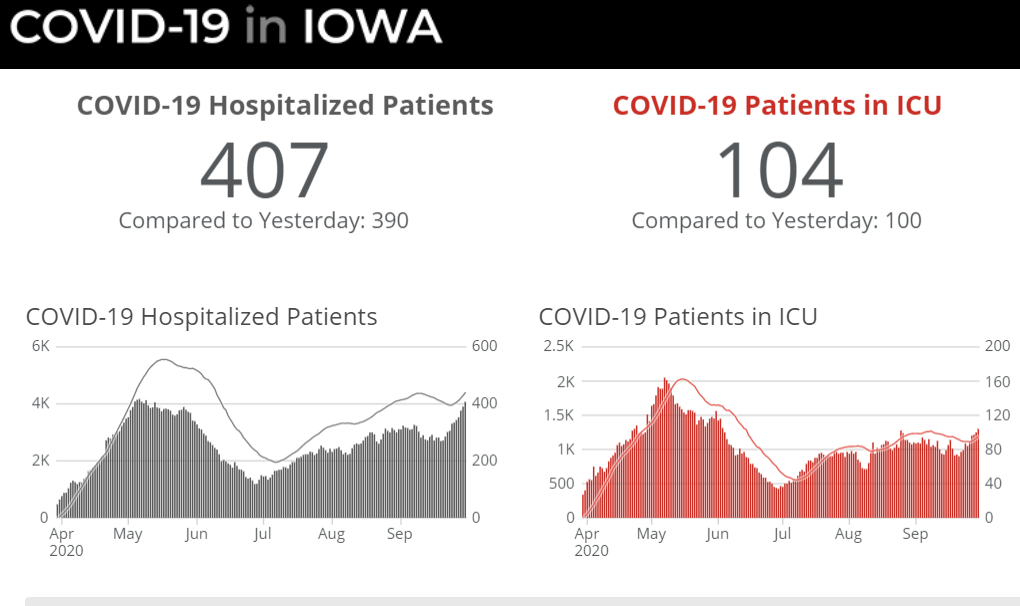 Iowa's seeing an increase in COVID-19 hospitalizations and the numbers are similar to what was experienced in May. According to the Iowa Department of Public Health, as of Thursday, Iowa had 409 hospitalized COVID-19 patients. That was a 24-hour increase of 17 patients. Of those hospitalized, 104 are in the Intensive Care Unit and 33 people were on ventilators.
Washington County Public Health Director Danielle Pettit-Majewski shares what people can do to prevent the spread of COVID-19, "Really making sure that you avoid large gatherings is hugely important. Wearing a mask when you are out in public and you can't social distance. Social distancing, you know maintaining that six feet of separation from people who are not in your household. Good hand hygiene, all of that. Staying home when you're sick. And again, I'm also going to stress too right now, because we're in that time, is getting a flu shot because overall that is going to reduce disease burden in our county, hopefully stress our healthcare system less, and maybe keep the rate of absenteeism down in our schools so that kids can continue to learn in person."
As of Thursday, Iowa had 89,647 confirmed cases of COVID-19, 1,358 deaths, and 69,561 people had recovered for a recovery rate of 77.6%. In Washington County, there have been 494 confirmed cases of COVID-19, 11 deaths, and 365 people have recovered for a local recovery rate of 73.9%. Washington County's 14-day positivity rate as of Thursday was 6.2%.