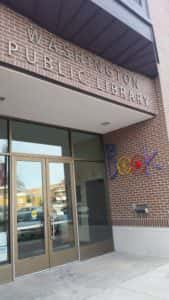 The Washington Public Library is continuing to open up in phases with COVID-19 safety measures in place. Director Bryna Walker shares what steps they're taking to provide services safely to the community, "So we are continuing contactless curbside book service. And that truly is the safest way to pick up books because we still are quarantining books for four days at a time. We have a quota of 20 people at a time in the library. We are encouraging mask use and we have a dispenser for hand sanitizer as you come in the library."
She encourages people to social distance. People can express browse materials for up to half an hour between 8 a.m. and 4 p.m. Monday through Friday. To do so, push the doorbell at the front door of the library and staff will let you in so they can maintain their 20-person capacity limit. Appointments are also available to use the library's computers.
Library materials can be returned in the book drops at the front door or in the alley drive-thru box.