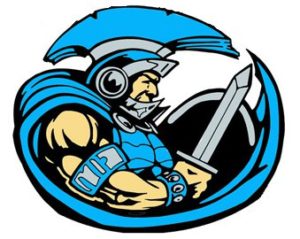 Fans in Wayland had to sweat it out on Tuesday, but they watched the WACO volleyball team win their ninth straight with a five set victory over conference foe Central Lee. 
The five sets featured a little bit of everything with the Hawks squeaking out the first 25-23 and dominated the fourth 25-14. The Warriors also flexed their muscles with a 25-10 victory in the second and a close 26-24 in the third. A sigh of relief was let out after a decisive 15-11 tally in the fifth in favor of the home team. Grace Coble had another monstrous performance setting up the offense with 41 assists and Morgan Graber recorded 17 kills. Ellie Miles had 11 kills, Aubri Garnsey 27 digs, and the team was 98 of 100 serving with 13 aces.
The Warriors improve to 11-1 overall and 3-0 in Southeast Iowa Super Conference play. They put their win streak on the line tomorrow when they travel to Danville (1-4).