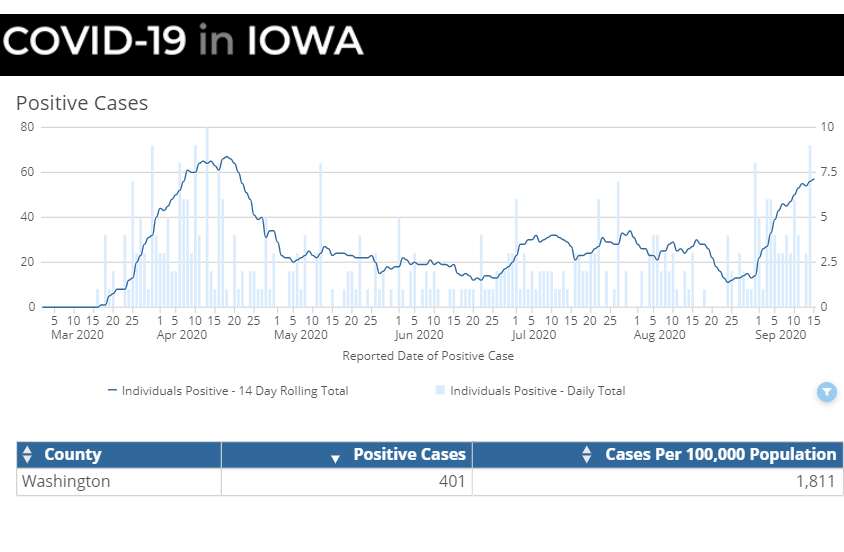 Iowa Department of Public Health graph - cases of COVID-19 in Washington County
Since September 1st, Washington County has had 65 new cases of COVID-19 confirmed. As of Tuesday, there have been 401 confirmed cases of the virus in Washington County, 11 deaths, and 323 people have recovered.
Washington County Public Health Director Danielle Pettit-Majewski provided an update on the COVID-19 situation at Tuesday's Washington County Board of Supervisors' weekly meeting. She said daily case numbers are going up in Washington County, "It's going up, like where we used to see maybe one case a day, now we're seeing five, six, seven, again kind of back to where we were in April. We're back to those types of numbers. And then we're also seeing a significant increase in the number of people that we're having to quarantine, especially with school being back in session." Washington County's 14-day positivity rate as of Tuesday was 7.2%.
Pettit-Majewski encourages people to get a flu vaccine. She said that if more people get their flu vaccine it will help the community and health care system, "Just encourage once we do have flu vaccination available, it will help if more people get the flu shot to keep that overall burden of illness down. And hopefully allow our schools to remain, you know, our kids healthy and schools to remain open. So, just a reminder for folks to get their flu shots."
The Centers for Disease Control recommends that anyone over six months old get an influenza vaccine each year. The CDC recommends people get their flu shot before the end of October annually. It takes about two weeks after the vaccination for antibodies to develop to protect you against the flu.