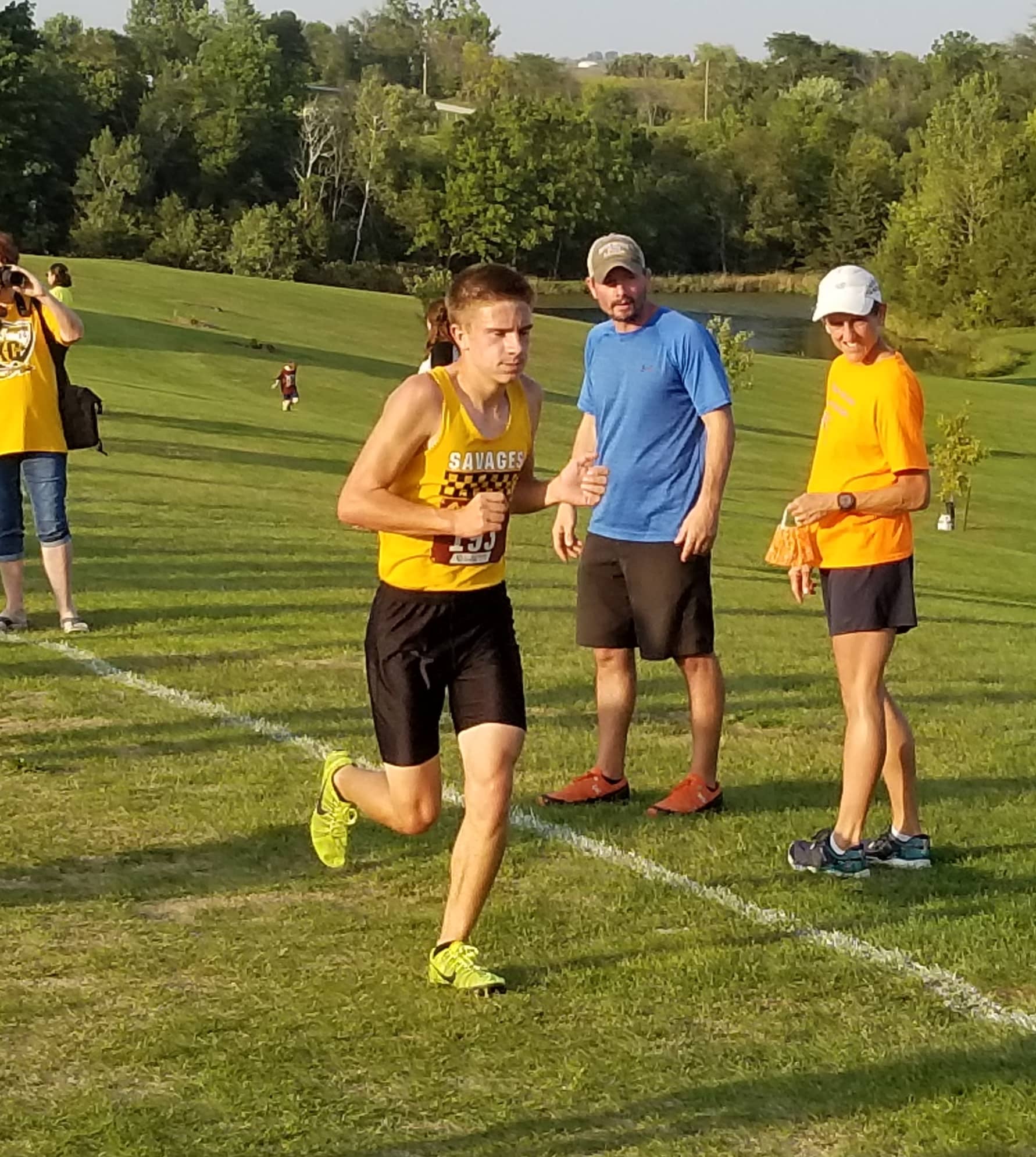 Six area schools participated at Tuesday's English Valleys Invitational at Knoll Ridge Golf Course in North English.
Mason Moore of Sigourney was the top individual in the boys race. He placed fourth overall with his time of 19:10. He talked after the race about his night. "Goal tonight was to beat my time here from last year and get a solid finish inside the top 10. We finished fourth, so we executed the plan well. First meet, started a little slow but now we are getting back in the groove. Ran inside the 17's last meet. We'll ramp up during the season. Today felt good. I had a lot of energy."
Levi Dehne was 55th for the Savages.
Lone Tree had the top area team finish with 132 points in fifth of seven scoring teams. Nick Saltzman led the Lions in 17th overall with a time of 21:01. Other Lone Tree runners included Alberto Cortez 28th, Cale Christofferson 29th, William Rockafellow 56th and Joey Birtcher 64th.
Highland was sixth of seven teams with 141 points. Top finish for the Huskies came from Jacob Roling in 27th with a time of 22:27. Other Highland runners included Carlos Valenzuela 41st, Ethan Paisley 44th, Brendan Schnoebelen 58th, Jackson Schneider 61st, Andrew Lans 62nd and Nicolas Orlano 69th.
Hillcrest Academy did not post a team score. They were led by Will Kolck in 32nd in 22:58. Collin Miller took 46th.
Wyatt Dennis led WACO in 38th with a time of 23:17. Other WACO runners included Mattias Luitjens 54th and Noah Fried 72nd.
Keota's top performer was Ryan Lawson in 59th with a time of 26:33. Noah Fisher was 74th.
In the girls race, top individual finish came from Leah Bontrager of Hillcrest Academy in third with her time of 22:42. After the race, she talked about her run. "I was kind of hoping for cooler weather, especially after what we had last week. The downhills here are fun so you have to think about those instead of the uphills. My goal was to place better than fourth, because that's where I finished here last year. It felt good to race again because we had a meet get canceled last week. Even though the course here is tough I was ready to race again."
Julia Boller was also 27th for Hillcrest.
Taylor Sublette led the Highland Huskies, taking 14th in 25:11. Other finishers for Highland included Katelyn Waters 39th and Fiona Mahler 41st.
WACO's Hannah Dennis took 49th in 32:22 and Sigourney's Georgia Atwood was 53rd in 34:26.