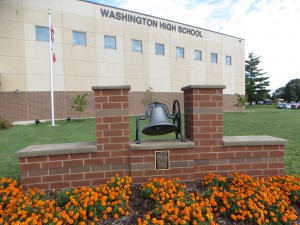 Homecoming for the Washington Demons will carry through many traditions with a few changes for safety. The Demons will take on Fairfield on September 25th. Activities Director Brent Van Weelden tells KCII News that the annual Spirit Night will move from the auditorium to Case Field to allow for social distancing on September 24th. Spirit Night will introduce all of the fall athletes, the marching band will play, and the homecoming king and queen will be crowned. Spirit Night is open to the public.
Due to social distancing difficulties, there will not be a parade. Friday's action on the football field will run like normal with KCII broadcasting the game live on air. And on Saturday the annual dance will be moved outdoors.
Van Weelden shares the feedback he's hearing from students, "Well, you know, the students are a little bit disappointed. But also, happy that they can have something. You know, our students have done a great job all year long. Our students have done a great job in the student section, we've had great spirit at all of our events. So, our students if nothing else are learning to adapt and change on the fly, so to speak. A lot of them are just happy that we're doing what we can."
This year's homecoming court includes queen candidates Brynn Beenblossom, Kellie Dallmeyer, Trina Griffin, Hannah Rees, and Josie Tanner, and king candidates are Kael Adam, Roy Carter, Cooper Reed, Wyatt Stout, and Trashaun Willis.