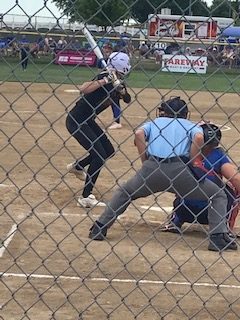 The final day of the 2020 Iowa High School Softball Season has arrived and the #2 Louisa-Muscatine softball team seeks a win to close the year when they face #4 Northeast Goose Lake in a third place consolation game at the state tournament in Fort Dodge.
The Falcons are 19-6 overall and opened up the state tournament on Tuesday downing Underwood 6-1 and then fell short of reaching a third consecutive state title game by falling to Ogden 4-2 in the semis. Hailey Sanders looks to end her illustrious career on a high note, as she supports a 1.03 ERA and has struck out 25 batters in the first two games in Fort Dodge. 
The Rebels (20-3) won the River Valley Conference and beat Central Springs 5-4 in the quarterfinal round, but then ran into a juggernaut in top-seeded North Linn and lost 10-1. Bree Mangelsen is a dangerous bat in the lineup with a .515 batting average and a team-best 30 RBI. Six Rebels support a plus-.400 BA and as a collective unit they get a hit 41% of the time. 
Head Coach Bryan Butler tells KCII Sports keys for his team to bounce back. "Hailey is going to be solid in the circle so we have to score early. We have to get runs across more often and get production one through nine. I think we will do that and I think we will come back strong. These girls are resilient."
All of the action begins at 3:30 p.m. today in Fort Dodge. Can't make the trip? Listen to the contest on AM and FM KCII and kciiradio.com for live play-by-play coverage beginning with the pregame show at 3 p.m.