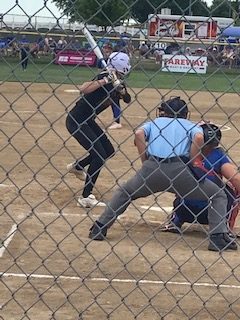 Drama was minimal for the Louisa-Muscatine softball team on Tuesday afternoon in Fort Dodge, as they had little trouble in a 6-1 victory over Underwood in a class 2A state quarterfinal matchup.
As heard on KCII, the Eagle bats were no match for Hailey Sanders in the circle and the senior wasted no time settling in. She struck out the first six batters she faced and had a perfect game through five innings. Underwood got their first baserunner on a walk in the sixth and Sanders was one strike away from tossing a no-hitter when Maddie Pierce hit a solo shot to left in the seventh. That hit had no impact on the outcome of the game however, as the Falcon offense was relentless and scored in four of their final five innings. Kenzie Kissel broke a scoreless tie in the second on a RBI single and they pushed it to 2-0 in the third after a pass ball plated Emilee Salek. The big frame came in the fourth when Louisa-Muscatine added three more including RBI singles from Kylee Sanders and Brynn Jeambey and a RBI sac bunt from Hailey Sanders. Jeambey finished with two runs driven in while the Sanders sisters, Kissel, and McKenna Hohenadel all had a pair of knocks. 
Falcon Head Coach Bryan Butler told KCII Sports Hailey Sanders was in complete control in the circle. "Striking out the first six batters really set the tone for the game. She does a great job of mixing up pitches and keeping batters off balance. When they did hit balls in play our defense stepped up and made the outs. Our team settled in early and played really well today."
The Falcons advance to the semifinals today at 3:30 p.m. when they face Ogden (20-3). The Bulldogs won the West Central Conference and defeated Mount Ayr 5-2 in the quarterfinals. Listen to the game once again on AM and FM KCII and kciiradio.com with the pregame show starting at 3 p.m.