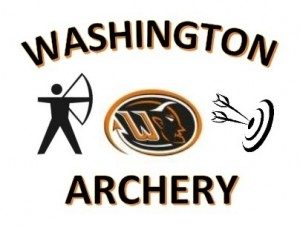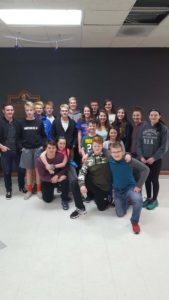 Pictured is the 2020 Washington Water Sharks State Competitors 
The seventh best sports story for Washington in our top 10 countdown from the 2019-2020 academic year takes us to a state competition in two different sports.
The Washington Water Sharks Swim team traveled to Marshalltown on March 7th and 8th for the YMCA State Meet and one individual made history. Senior Michael Kimball nabbed his first and second career individual title by winning the 50-yard freestyle and 50-yard breaststroke. His mark of 21.52 seconds in the 50-yard free was a new state record. Fellow senior Audrey Wubbena also had a productive weekend placing fifth in the 100-yard freestyle and seventh in the 100-yard backstroke. The Water Sharks sent 20 competitors to the state meet ranging from 8 to 18 years of age.
On the same weekend the Washington archery team competed in the Iowa State National Archery in the Schools Program State Tournament in Des Moines. The Demons placed fourth out of 33 in the bullseye event with David Rees posting a 289 score to rank him 16th out of 404 high school boys. Meghan Case was right behind with 288 to place 10th out of 341 high school girls. Samantha Mellinger finished 10th out of 97 in the 3D competition with a 283. The strong tradition of Demon archery continued this winter, as they won four meets including all three at home.
Check back in tomorrow for number six on our Demon countdown when it takes us to the volleyball court.