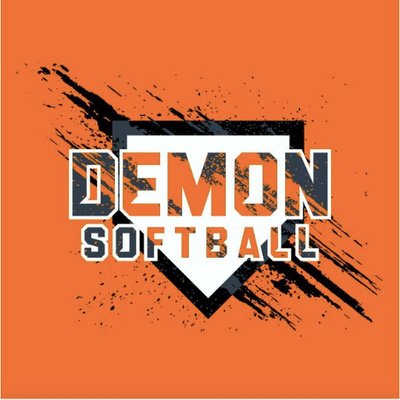 Just call them the cardiac kids. Once again the Washington softball team had a flair for the dramatic Thursday night against Fort Madison winning a marathon first game that had plenty of edge of your seat moments and then an offensive explosion in the nightcap to seize the sweep.
As heard on KCII a three-hour first game was finally decided in the 12th inning with Washington pulling through in an 8-5 victory. Similar to a game last week against the Bloodhounds, the Demons trailed 1-0 heading into the seventh when Kellie Dallmeyer had the equalizer on a RBI single and Kinsey Duwa followed it up with a RBI groundout. Washington tacked on one more to take a 3-1 lead, but Fort Madison had the answer with two runs of their own to send it into extras. That theme continued into the eighth with both teams scoring twice including a two RBI double by Anna Venenga. The Bloodhounds had a chance to win it in the 10th on a single to center but Duwa threw the runner out at home to keep the game alive. Washington broke through in the 12th after another RBI knock from Venenga that helped them secure the win. The sophomore went 4-for-5 with three runs knocked in. Alexa Mitchell tossed the final five innings in the circle to pick up the win giving up two runs.
Luckily for Demon fans' blood pressure, game two was a little less intensive with Washington dominating 12-2 in five innings. Crooked numbers in the second and third was all Molly Sparks needed in the circle, who threw all five innings giving up one earned run on seven hits. The senior also went 2-for-4 with two RBI at the dish to lead a 12-hit Demon offense. Alexa Mitchell, Kaitlyn Mitchell, and Venenga each had two runs knocked in. In her first varsity at-bats of the season, Venenga had a career day going 5-for-7 with five RBI and two walks in the doubleheader. Head Coach Ben Obermann tells KCII Sports she provided the spark for the team. "Sometimes when opportunities come you have to take advantage and boy did she ever. Anna had great plate discipline and hit the ball all over the field. It gave us a big spark in the bottom of the lineup that we haven't had in a few games."
Washington improves to 15-10 overall and 7-5 in the Southeast Conference. They get back on the diamond tomorrow for a home tournament.