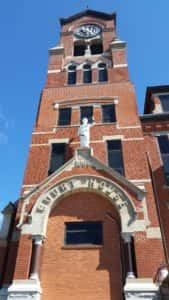 Property taxes are going up nearly 10% in Washington County. The Washington County Board of Supervisors at their meeting Tuesday unanimously approved the Fiscal Year 2020 budget in which the total property tax asking is increasing $1,122,439, equal to 9.77%. Cyndie Sinn who prepared the budget explained the increase includes moving the communication levy to the county from cities, and multiple projects, "Normally we set aside money on off years for an ambulance purchase, and this is the year that it is in the budget to purchase a new ambulance, plus renegotiate the ambulance contract. The next item of significance is the county facilities security system project. Which we had budgeted some last year, the project has taken longer to spec out and design, and I think we've also added some things to do with the new building that is also being designed for the emergency management and dispatch, so there was an increase there. And then also an increase in the emergency management support besides the communications support." Without those projects, the increase would have been $206,333, or a 1.8% increase. The tax rates per $1,000 taxable valuation will be $8.211 in urban areas and $11.1654 in rural areas. She adds that when the commercial and industrial rollback was implemented, the State replaced the loss to the County at 100% but it has dropped over the years with just 90.3% last year and 83.5% budgeted in the next fiscal year.
During the public hearing, Craig Hansen questioned the supervisors, "How can you justify going up when rural income is down? Property values, at least if you're selling property, is down. Cash rent's down. Between ag going down and the budget going up, or needing more money, you put a pinch on ag specifically." And supervisor chairman Bob Yoder replied, "Well, the cost of government it's, it is what it is."
In a separate resolution, the supervisors unanimously approved compensation increases for elected officials ranging from 2.25% to 5.27%.
Elected Official – Approved Salary – Approved % Increase
Auditor – $75,062 – 2.25%
County Attorney – $117,819 – 5.27%
Recorder – $70,425 – 3.91%
Sheriff – $96,727 – 3.05%
Supervisors (5) – $37,482 – 2.25%
Supervisor Chair – $1,500 – 0%
Treasurer – $71,457 – 3.89%