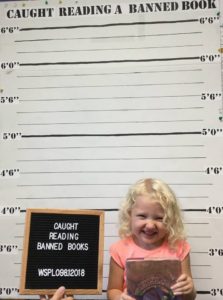 Photos courtesy of Wellman-Scofield Public Library.
Get caught reading an attempted banned book at the Wellman-Scofield Public Library as part of Banned Books Week.
Celebrated since 1982, Banned Books Week promotes the value of free and open access to information in response to challenges to ban certain books in schools, bookstores, and libraries. The Wellman-Scofield Library has put up a display to have your "mugshot" taken, and they are educating visitors on books that people have attempted to ban, such as The Diary of Anne Frank and the Harry Potter series. Library Director Carol Wilkins explains the significance of Banned Books Week, "It's mostly about your freedom to read, and to read what you want to read. We have a few books that have been attempted to be banned so people can see what their reasoning was, like Captain Underpants you know was talking about underwear and you're talking about improper behavior. So it's basically your right to read and decide for yourself."
"Banning Books Silences Stories" is the theme for this year, a reminder that everyone needs to speak out against the tide of censorship. For more photos from the Wellman-Scofield Public Library visit their Facebook page.