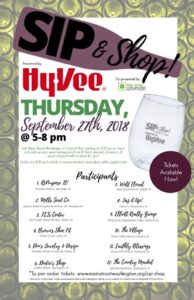 A successful local event is making its return later this month.
Main Street Washington and Hy-Vee are hosting Sip & Shop for the second year in downtown Washington. Twelve vineyards from across Iowa will be serving samples of wine to participants at 12 local businesses from 5-8 p.m. Thursday, September 27th. Main Street Washington Executive Director Sarah Grunewaldt shares what's new this year, "We had a great success last year. Iit was a first time event, and we did make a minor change this year and that is it does cost $10 to participate. Last year it was a freewill donation, this year it's an actual ticketed cost. Obviously you have to be 21 to participate but you do get a complimentary reusable wine glass with your purchase."
Grunewaldt says the $10 fee was added so that they can keep track of how many attend the event and to be able to monitor the situation for any problems. Ticket wristbands can be purchased during the event in Central Park or they can be purchased ahead of time at the Main Street Washington office or online at mainstreetwashington.org.