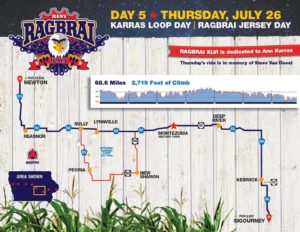 As RAGBRAI rolled through Washington County this year, some groups involved came away more successful than others.
Wellman City Council member Shannon McCain says he's received no complaints from the out-of-town vendors that participated, and the local organizations generally did well, "We're working on getting a survey put together to send out to all of them so that we can get it pinned down to exactly how everybody did, but for the most part I think there were groups that did better than expected, and there were some that didn't do quite as they expected. But I think everybody enjoyed the day and just the experience of how many people were coming through that town."
Kalona City Administrator Ryan Schlabaugh says the city made a profit of about $4,000-$5,000, "It wasn't our goal to necessarily make a bunch of money on it, but we wanted to be able to cover our expenses and make sure that we were trying to get as close as we could. But through kind of the successes of the vendors and t-shirt sales and everything, we were able to derive a profit from the event. So we'll have council kind of weigh in on where they want to see that go." The City of Kalona also presented a $1,000 check to the annual Courage Ride for sarcoma research from donations for their "Bolts of Color" patch they distributed, and contributions from CBI Bank & Trust and Hills Bank & Trust.
For Riverside, placing most of the food and entertainment in Hall Park resulted in not as many bicyclists stopping through town as expected, according to organizer Kevin Meller, "Our food vendors didn't have a good day, there's really no other way to put it. So I'm not sure if we can give them money back, but I did bring it up that would be nice to give them a $100 rebate to say, 'Hey, we know it doesn't make the results any better but we appreciate you coming.' Because a lot of these vendors do come to Trekfest and other events that we put on and we greatly appreciate [it]. I view vendors being there to help support and enhance our event, not for us to make money off of them."
Meller asked the city council at their recent meeting about a rebate for vendors, which no action was taken on. Overall, Meller says it was a good day for RAGBRAI in Riverside, with a constant line for photos at the Captain Kirk statue and four bands who performed that day.