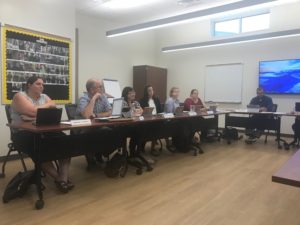 Mid-Prairie School Board met on August 13th. Photo by Sam McIntosh.
The Mid-Prairie School Board approved the first reading of volunteer, visitor, and community group policies Monday.
Committee co-chair Jack Seward, Jr. presented the policy changes the committee determined after six meetings were held this summer. Thirty people were invited to this committee, and about 25 people attended each meeting, according to Seward. The committee consisted of three school board members, administrators, and other various backgrounds. This committee was formed last spring after a convicted former sex offender was allowed to volunteer for the district after an appeal to Superintendent Mark Schneider.
Former Anita school student Nicky Bauerkemper spoke during the meeting's public forum, "We recognize that a decision, that of this specific individual is something that's out of our control and will always be a personal fear. But I just want to say that it's heartening that now together, including with this board, we're working to amend policy, provide education and resources, and we've made great strides in raising awareness."
The new policy states those who apply to volunteer for Mid-Prairie must undergo a more extensive background check every two years which will be paid for by the district unless the person wants to donate the $28.50 to the district. If a volunteer applicant has a criminal conviction on their background check that falls within the Iowa Board of Education Examiners criminal convictions disqualification list, the applicant will be disqualified and may appeal to the school board in an open meeting. Any convictions not on the criminal convictions disqualification list will be reviewed by the administration.
Schneider commented on the committee's effort, "I want to thank the community members and I want to thank you for the respect that you've shown each other. I wish we could have videotaped some of those meetings to show people a positive way to deal with conflict, and I couldn't be more proud of a district that had a difficult issue to tackle and dealt with it in the right way, in the right manner."
A second reading of the policies will be on the agenda for the next school board meeting.