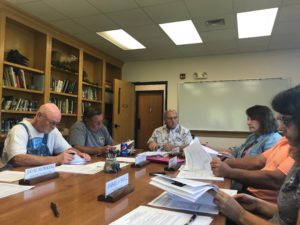 The Washington County Conservation Board met on August 9th. Photo by Sam McIntosh.
Washington County Conservation is in the process of getting countywide peace officer jurisdiction for two of its employees.
At Thursday's conservation board meeting the board approved a resolution for a 28E Agreement providing Park Rangers Zach Rozmus and Jayse Horning county-wide peace officer jurisdiction. WCCB approached the Washington County Sheriff's Office about forming an agreement, as Executive Director Steve Anderson explains the rangers' current authority, "Iowa Law allows the county conservation board to designate as peace officers to have jurisdiction within areas that are controlled by the county conservation board only. Therefore, before the action that's going forward now our trained county officers were only able to write citations within areas that were under our control, so that if they saw a violation or whatever out on the highway they were not able to deal with that."
Washington County Sheriff Jared Schneider comments on the agreement, "We've always had a really good working relationship with the conservation rangers and it's something that I think it helps them out, it helps us out and it's good for both of us. You know, like I said earlier in the meeting one of the things that it helps them do is that they don't have to second guess themselves on whether they have jurisdiction where they're at when they're in between parks and things like that, and if they see something happen in front of them it gives them the ability to deal with that situation."
The agreement also requires Schneider's signature and the Washington County Board of Supervisors approval before taking effect.