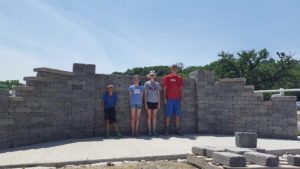 Photo courtesy of Louisa County Extension
Come "Party with the Animals" this week at the Louisa County Fair.
The Louisa County Fair takes place now through this Monday and is free to attend except for ticketed grandstand entertainment. Highlights this year include Deery Bros. Late Model Races, stock car races, fireworks, and figure eight races. The Louisa County Fair board improved accessibility with handicapped seating at the grandstand this year. Fair board member Tony Humiston shares other improvements that have been made to the grounds this year, "We've done some painting and remodeling on some buildings and cleaned up some buildings and stuff and also a new addition this year one of the 4-H clubs put a cement wall block wall [together] for a photo backdrop for all the livestock and everything else it's brand new we just got it done this year it looks really nice."
The KCII Big Red Radio will be making its annual stop at the Louisa County Fair this Saturday, broadcasting live from noon-3 p.m., as part of the KCII Summer Town Tour. To find a full schedule of the fair visit here.