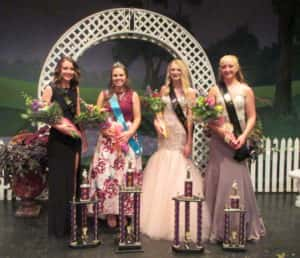 2018 Washington County Fair Queen court. Photos by Sam McIntosh
The 25th annual Washington County Fair Queen Pageant took place Sunday night and a new county fair representative was chosen.
This year's queen is Katie Palmer of the Lime Creek Limelights 4-H Club. Palmer shares how it felt becoming the 25th queen, "I'm so excited to be queen. This is something that I've seen from since I was a little girl and it's exciting to be the title myself."
Palmer wanted to thank those who helped her achieve this success, "I'm really thankful for my parents that helped me get everything done today and so thankful for their support."
First runner-up is Madelyn Janecek. Second runner-up is Peyton Cuddeback. And the Miss Congeniality award was presented to Clara Schmitz. There were nine total contestants. For more photos from the pageant visit KCII's Facebook page.