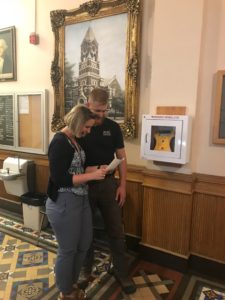 Danielle Pettit-Majewski receives the unofficial election results Tuesday night. Photo by Sam McIntosh.
Ward 1 residents of the City of Washington have elected a new city council representative.
Danielle Pettit-Majewski has been elected to serve on the city council with 54 votes. Mark Kendall came in second with 36 votes and Dave Mueller came in third with 25 votes. The special election was held Tuesday to fill the Ward 1 city council seat left vacant by Kerry Janecek in April.
Pettit-Majewski says she feels honored to serve the City of Washington, "There's so much about this community that I love and so I want to be involved in some of the decision making and bring a different perspective to [the] council. I think it's really helpful when you have a diverse council who can look at things from different angles and I'm just really excited to get to meet the rest of the council members and get to do some great work here in Washington."
Pettit-Majewski will serve the remainder of Janecek's term through December 2019. Results are unofficial until they are canvassed by the Washington County Board of Supervisors next Tuesday.