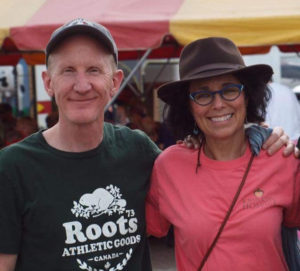 Larry Mossman and Kathy Maxey are performing at the Kalona Public Library June 21. Photo courtesy of Olivia Kahler.
"Libraries Rock" for this year's summer reading program, and the Kalona Public Library will be rocking outdoors for a concert series.
Youth Services Librarian Olivia Kahler explains how the outdoor concert series took shape, "We had some friends from Iowa City that we knew were good musicians and we thought maybe they would like to do a program. And they kind of laughed because they never had children as an audience and so then we decided, 'Well, what if we made it a family event, would that make them more comfortable?' And they did, and then it kind of transformed even more when thought we would get a whole lot more participation if we were playing outside and the neighbors could hear us, and the people walking downtown could hear what's going on, and we'd get a bigger audience that way."
Four concerts are scheduled this summer on Thursday nights at 6 p.m. on the library's east lawn. All ages are welcome to attend, and attendees are asked to bring their own chair. Kahler hopes the events show that the library is not just a storeroom of books and that they want to be a source of entertainment for the community. Those participating in the adult summer reading program can also check this off their list of activities to complete for a prize this summer. Folk music duo Larry Mossman and Kathy Maxey will be performing this Thursday. In case of rain, the concerts will take place inside the Velma Skola Room at the library.
Concert Series Schedule:
Folk duo Larry Mossman and Kathy Maxey – June 21
Pianist Josh Sazon – June 28
Ukelele player Jessica Egli – July 19
Heartstrings Fiddle Group – July 26