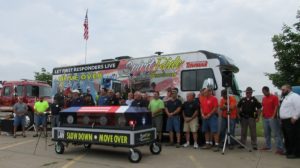 A casket painted in red, white, and blue depicting the many professions that work on our nation's roadsides was towed into Washington Tuesday – it's called The Spirit.
The Spirit is part of an effort to educate the public to move over and slow down for emergency vehicles with hazard lights on, and it is a time to pay tribute to those who have lost their lives working on the side of the road whether they're tow truck drivers, DOT workers, law enforcement, or medical technicians. The Spirit is crossing the United States and is scheduled to relay in 300 cities this year.
Mike Corbin with American Towman Spirit Ride welcomed those in attendance, "Today we call out to all motorists – give us room to work. Would any person work at a desk where his or her back is at the edge of a cliff with no safety net below? On the highway the safety net for first responders is the move over law when obeyed. This law requires motorists approaching emergency vehicles with flashing lights to slow down and move over one lane. Yet according to the National Safety Commission, 71% of Americans have not heard of the move over law." On average, a tow operator is killed every six days.
Sgt. Doug Rupe with the Iowa Highway Patrol said this law is important to protect people, "Unfortunately, this happens quite frequently. But what is good to say is the Iowa Legislature has heard this problem and the move over law in Iowa, which has been our law for a few years now, has been amended starting July 1st it will not only include tow trucks, fire trucks, DOT workers, law enforcement it's also going to include every one of you that stops along the side of the road. Starting July 1st any vehicle parked alongside the road with its hazard lights on is considered under the slow down and move over law. So if you're broke down changing a tire, whatever your problem might be that day, people are supposed to slow down and pull over for you, just as well as anybody else."
The Spirit was then towed by Moore's BP from Washington, along Highway 92 to Ainsworth, and then north to Monticello.