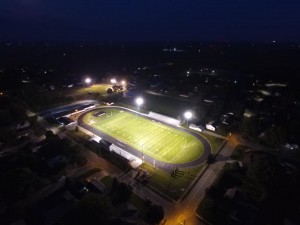 Case Field in Washington is getting an upgrade with the help of the Washington County Riverboat Foundation.
At their spring grant award ceremony, the foundation presented $50,000 to Washington Community Schools for a new scoreboard, president of the foundation David Mitchell explained, "The Washington Community School District is making another major improvement to Case Field by replacing the scoreboard with an enhanced scoreboard with enhanced audio and visual components. The video system will be capable of showing live results at track meets, and even photo finishes. They plan to use the video production classes at the high school to create video content and for operating the video board during events." The total cost of the project is $161,000.
In 2015 and 2016 WCRF presented grants to improve Case Field for a total of $ 138,365 to replace bleachers.