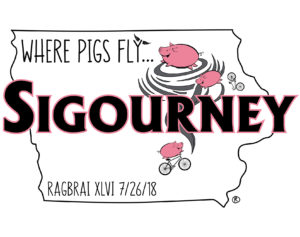 This week is National Volunteer Week, a time to celebrate what volunteers have done to serve our communities.
It can also be a time to think of how you can benefit your town in the future. One event that will need many volunteers in southeast Iowa this summer is RAGBRAI. Sigourney is an overnight stop this year, and Executive Committee Co-Chair Amber Kephart says they are always looking for volunteers, from staffing the beverage garden to housing bicyclists overnight. Kephart says volunteering for RAGBRAI is a great experience, "It is definitely worth all the work that we are putting into it. You are going to meet some of the most amazing people, you know a lot of the riders aren't even from Iowa, they're not even from the midwest. So you get to experience a different kind of culture, and then you get to show them our town and how we live."
Those who want to learn more about what will be happening during RAGBRAI at Sigourney can attend a town meeting on April 26th at 6:30 p.m. at Memorial Hall. For more information on how to volunteer visit the RAGBRAI Sigourney Facebook page or call Kephart at 641-799-9392.