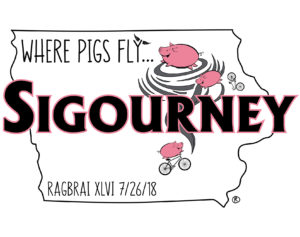 When pigs fly. That's the chance some residents thought of Sigourney becoming an overnight stop on RAGBRAI since its previous turn in 1995.
RAGBRAI Sigourney Committee Executive Co-Chair Amber Kephart says many bicyclists recall that year as being the worst ride ever with intense heat and strong headwinds. Sigourney has decided to twist the platitude for their theme this year as "Where Pigs Fly."
Sigourney revealed their theme and logo Saturday, which shows pigs flying off of bicycles into tornadoes over an outline of Iowa. They also announced the musical entertainment, The Pork Tornadoes, a Cedar Falls-based band that covers a variety of artists, from Justin Timberlake to Tom Petty and the Heartbreakers. Kephart shares what she wants riders to take away from their experience at Sigourney, "Our small town pride, we are the smallest town on the route but we want them to leave with the best impact out of the entire week."
Sigourney also has a mascot, a live piglet named Pork Chop, that they will be posting videos of at different spots in the city weekly on the RAGBRAI Sigourney Facebook page leading up to July 26.