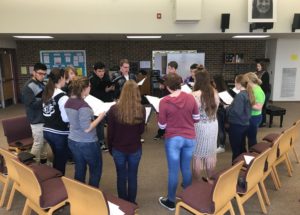 IMS Touring Choir rehearses March 29. Photo by Sam McIntosh.
The harmonic voices of the Iowa Mennonite School Touring Choir have been filling the spaces of several local churches this semester.
From February to May the IMS Touring Choir is performing at area Mennonite churches, but the highlight for them is this weekend as they will be traveling to Harrisonburg, Virginia for the annual Mennonite Schools Council Choir Festival at Eastern Mennonite School.
Junior and bass singer Brandon Jimenez reflects on this year's touring choir, "It's been going real well. It's always a fun time to be able to go and share our music with other people and also their feedback, how they enjoy it. But also just people that have been following us along to different churches, and they tell us how much we've improved and so that's really helpful."
The IMS students will be part of a mass choir of approximately 500 voices from Mennonite schools across the U.S. and Canada. The MSC Festival will be livestreamed, for a link to watch click here.