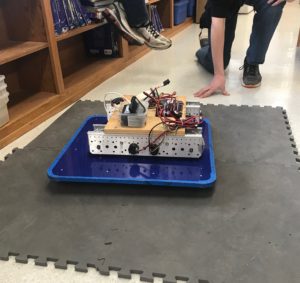 The Finger Tightans test out their new robot. Photo by Sam McIntosh.
The Finger Tightans Highland Robotics team is busier than ever preparing for the trip to compete at the FIRST Tech Challenge World Championship in Detroit, Michigan.
The team is building a new robot to be more competitive at Worlds. They are in their first year advancing from the state and super regional competitions. Senior and engineering lead Nathan Butler shares the team's goals, "First of all have fun. It's all a celebration of what we've done and all these other great teams have done all season, but second on the list is to establish some connections. There's all these great teams out there that we can learn from and we can work with in the future. So we're going up there, we're going to be learning from these teams and we're also going to be connecting with them. And hopefully they can learn a thing or two from us, too."
The FIRST Championship is April 25-28. The Finger Tightans are working on raising about $6,000 for hotel, transportation, and other costs to get to Detroit. The team is asking donations be sent to the high school, and Superintendent Dr. Mike Jorgensen has said he will match up to $500 in donations.
Cash or check donations are asked to be mailed to:
Highland High School
1715 Vine Avenue
Riverside, Iowa 52327
Please make checks out to Highland Robotics.
The team's current expenses for Worlds are:
$3,200 – Hotel
$1,000 – Transport
$1,500 – Pre-World Team Improvements
$700 – Miscellaneous Costs