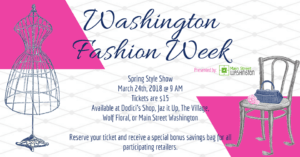 Sandals, sundresses, and springtime home decor are all featured in downtown Washington for the annual spring style show and fashion week.
Main Street Washington director Sarah Grunewaldt shares what those who shop downtown will see, "We highlight spring new merchandise and objects for your closet and your home in all of our little retailers in downtown. It's great, we have a lot of fun with that. And then on Saturday is our style show and brunch at Cafe Dodici, we have a show at 9 a.m. Your ticket gets you a delicious brunch and you get to see all of the brand new clothing, and shoes, and jewelry that has come out this spring." There will also be a bonus savings bag for attendees to use at participating retailers.
Grunewaldt says the businesses enjoy this because many have gone on buying trips over the winter. The stores will be open following the fashion show Saturday, so if you fall in love with an item you can purchase it the same day. For tickets to the 9 a.m. show contact Main Street Washington.