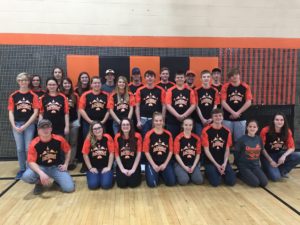 All Three levels of the Washington Archery program competed Saturday at the Iowa State Fairgrounds in the Iowa State meet.
The Washington Demon High School team finished third in the state with an overall score of 3357. Des Moines Valley won the state title with a score of 3363. Top shooter for the Demons was Samantha Mellinger, finishing fifth, with a score of 291 including 22 10s. Other scores for the Demons included Mitchell Driscoll at 289, Alexis Ide with 285, Maggie Morgan at 283, Cody Mellinger with 280, Anna Miller 279, Griffin Wood 278, Braeden Duwa 277, Cooper Reed 276, and Bryan Martin and Johnathan Bartholomew at 274.
The Washington Middle School team placed seventh in the state with their score of 3218. Stilwell Junior High won the title with a score of 3322. Top shooter for the Demon Middle Schoolers was Curtis Stender with a 280. Other scorers for the Demons included Kenna Rathmel 278, Bryce Dewolf 277, Duston Sorrells 272, Reed Hoffert 268, Makynna Morgan 267, Allison Rees 266, and William Peterson 265.
The Washington team from Lincoln Elementary also finished seventh in the state. They ended with a score of 2890. Jordan Creek Elementary School won the state championship with a score of 3023. Top shooter for the Lincoln team was Kaden Read at 251. Other scores for Washington included Audrey Smith at 250, Nikole Hall at 247, Blake Sheetz and Andy Labelle with 245, Cash Pepper with 243, Blaine Hodson 239, Jade Sheetz 238, Sammy Jo Helfrich 237, Quintyn Garibay 236, Isabelle Peterson 232, Rachel Sands 227, and Kamryn Williams 224.