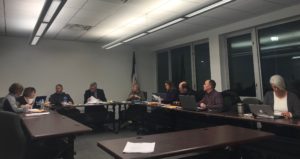 Highland School Board met February 12. Photo by Sam McIntosh.
The Highland School District will be saving up to $10,000 in transportation costs next year in the cutting of two shuttle bus routes.
Superintendent Dr. Mike Jorgensen proposed to the school board at their recent meeting to discontinue a shuttle for two special needs students who live on the border of the district, as it is not required under the Individualized Education Program. Jorgensen also proposed ending a shuttle service for two students who are involved in Lone Tree FFA, since the district doesn't shuttle students for other Lone Tree classes or the Kirkwood Regional Center, and Highland offers an FFA program. The parent of the special needs students will be notified of the change for next year.
Jorgensen comments on two different transportation bills that have been introduced in the legislature, "The equity bill certainly would be a positive for the Highland District if that occurs and the one where they're talking about lengthening the time from 60 minutes to 75 minutes, I don't think we would be interested in that. I think 75 minutes is too long for a kid to be on a bus."
The school board approved the transportation reductions for 2018-2019.