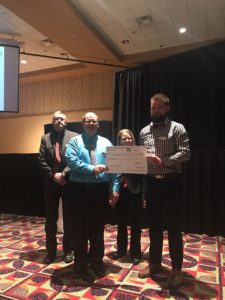 Highland School District receives Washington County Riverboat Foundation grant. Photo by Sam McIntosh.
Highland Elementary is in the process of upgrading its temperature control system this spring.
The Highland School District received a $30,000 Washington County Riverboat Foundation grant to change the elementary controls from pneumatic to digital, which will have remote control access from a computer.
Interim Superintendent Dr. Mike Jorgensen explains why they are making the change, "The pneumatic system is fairly old. It's awful hard to make repairs and stuff because it's kind of dated. They're not very efficient and so we're always looking at ways that we can save the district some money. And the more money we save on utilities the more we can apply to the academic needs of the kids."
The bid proposals the district has received have shown between 20-40% energy saving costs and a less than eight year payback. The district is asking AAA Mechanical Contractors Inc. for a recommendation before they choose a proposal.