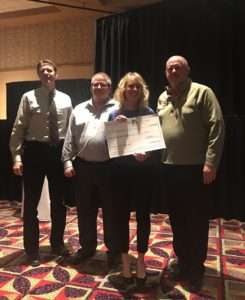 Kalona City Council members Joe Schmidt and Mark Robe and City Administrator Ryan Schlabaugh accept their grant from WCRF board member Stephanie Schlabaugh. Photo by Sam McIntosh.
The Washington County Riverboat Foundation gave its largest grant at their fall 2017 ceremony to the City of Kalona.
A $150,000 grant was given to Kalona for the gym in the $5.3 million community center which is under construction. Kalona City Council Member Joe Schmidt comments on receiving the grant, "It's very exciting for Kalona. I think we're really excited to see the community center come full circle and this kind of funding will certainly help us. We're very excited, the building is actually being delivered this week, parts of it and so that will really start to take shape. And I think the community will really start to get excited about seeing not only the building, but knowing that funds like this from the Riverboat Foundation will really help support the project going forward, so we're really excited about it."
The City of Kalona has received over $400,000 in grants from the Riverboat Foundation for the community center which will have three basketball courts, an elevated walking track, fitness rooms, and new weight and exercise equipment. The $150,000 grant will be used to finish the 10,146 square foot gym floors, and fund amenities such as basketball hoops, scoreboards, seating, and railings. A summer 2018 completion is expected.