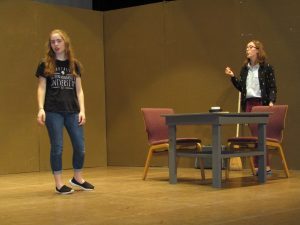 Adria Ebersole (Anne Shirley) and Emma Beachy (Marilla Cuthbert) rehearse for "Anne of Green Gables." Photos courtesy of Iowa Mennonite School.
The story of an imaginative orphan girl who is sent to live in the fictional Prince Edward Island town of Avonlea will be brought to life as a stage musical at Iowa Mennonite School.
"Anne of Green Gables" is based on the 1908 novel by L.M. Montgomery. The musical tells how feisty spirit Anne Shirley starts her new life in Avonlea, and though she gets off to a rocky start, she soon charms everyone as they come to appreciate her imagination, passion, and heart. This production is directed by Michael Swartzendruber and Alisa Kandel, and stars Adria Ebersole as Anne. It will be performed Saturday at 7 p.m. and Sunday at 3 p.m. at Celebration Hall. Tickets are $9 for adults and $5 for students. You can reserve tickets by calling IMS at 656-2073.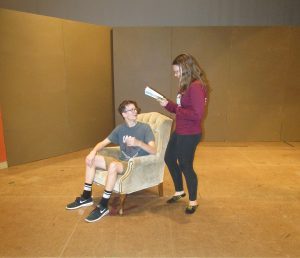 Caleb Gingerich (Matthew Cuthbert) and Lara Kleiwer (Diana Barry) rehearse for the fall musical.