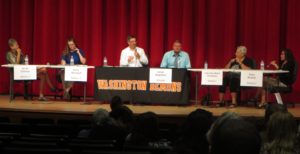 Ed Raber (third from left) moderates a candidates forum Wednesday at Washington High School. Photo by Sally Y. Hart
Funding, open enrollment, facilities, open communication, partnerships with the community, and retaining quality teachers were all discussed at Wednesday's Washington School Board candidates forum.
The event at the Washington Area Performing Arts and Events Center sponsored by the Washington Chamber of Commerce began with each candidate giving opening remarks. The At-Large candidate Jason Hamilton went first since he's running unopposed. Then Ed Raber moderated a question and answer session with District 2 candidates incumbent Dana McDole and Kate Glinsmann, as well as District 5 incumbent Heidi Vittetoe and Kelly Wieland.
When asked about what opportunities, challenges, and threats do you see approaching the district in the next five to 10 years Vittetoe spoke of enrollment and funding, "Changing enrollment or the change in the number of students that are available in the seats on the day we certify enrollment, is the single biggest factor of our revenues for the coming year. That in itself is an issue and a lot of that is already created by birth rates that already happened. The current political pressure, at least in some parts of the country, against immigration pose a great threat. Washington is a community that has benefited enormously from the presence of immigrants here in Washington, both for the diversity of culture, and they've kept us from being a shrinking town. So as goes immigration reform so goes the population of several states in the Midwest."
Speaking of challenges, Wieland said, "The challenges that we do face within the next five to 10 years is ensuring that we do maintain that teacher retention, that we do maintain the quality educators that we do have and continue to bring more in. So with that as well is again making sure that our population and our enrollment continues to increase and it draws those quality educators to the district, all the while making sure the district is providing teachers an environment that they want to be at, and continue to thrive and feel safe and happy here."
Visit KCIIRadio.com to hear a Washington Page with each of the five candidates. Everyone in the school district can vote for every district representative. Election day is September 12th, listen to KCII that evening for live results from the Washington County Courthouse.