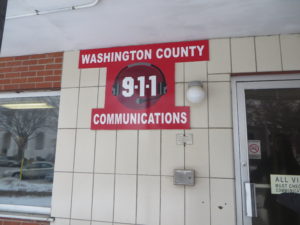 When there's an emergency you rely on 911 for help, now the equipment that receives the call and helps dispatch emergency crews needs updated.
Washington County's system was installed in 2000 and has a life expectancy of 15 years. At Tuesday's Board of Supervisors meeting, Sheriff Jared Schneider explained a commission has met with a consultant who estimates the cost for equipment at about $10.4 million. Communications supervisor Cara Sorrells says that cost includes three new towers, new dispatch equipment, and about 300 radios for police, ambulance, and firefighters to have in the field.
Schneider said the upgrade means better coverage indoors and outdoors. The consultant says currently indoors the coverage in the county is 39% and the standard is about 95%. Schneider says, "From a law enforcement standpoint, I know there's spots all over this county that we cannot get out on our radios, some of those are in high traffic areas like 218. So we have difficulties at times, being out on traffic stops, being at accidents out on 218, and being able to get out on our radios. And that can be an accident or stopping somebody that's very dangerous and having to chase after them, and when you're in that situation you hope that your radio works."
The other piece of the puzzle is where to house new equipment. The commission supports a new technical building, estimated at over $1 million. Supervisor Abe Miller asked if there's a way to use the existing building. Problems with the current communications facility include plumbing, electrical, security, and mold. Supervisor Stan Stoops said it had issues routinely 30 years ago when he worked there as a jailer, "When I was jailing over there, I was also the janitor and that building is junk. It was junk then and it's worse now. … The attention that building needed was constant, whether it was the roof, whether it was the plumbing, the heating, it was constant. It was a building that was designed as a house and was used for the public."
The supervisors approved Mayor of Wellman Ryan Miller drafting a grant application for the Washington County Riverboat Foundation. Supervisors Stoops, Bob Yoder, Jack Seward, and Chairman Richard Young spoke in favor of the efforts. Young is going to talk to bonding agents this week about the next steps forward. Once funding is secured the commission will seek vendors, as it takes about two years to get equipment built. Funding for equipment is deemed essential and can be a general bond without a vote, while the building is a separate measure.