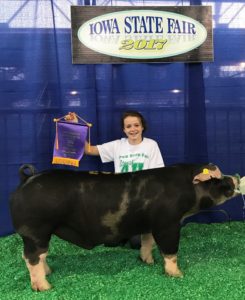 Leah Marek, daughter of Tim & Heather Marek, showed the Champion Spotted Breeding Gilt and the Champion Spotted Market Barrow in the 4-H Swine Show.  Marek is a member of the Jackson Jets 4-H Club. Photo courtesy of Washington County 4-H 
A Louisa County student showed the Supreme Champion Commercial Gilt at the Iowa State Fair.
Kelsey Pretz of Columbus Junction showed her hog in the FFA Breeding Swine Show at the fair. Also, Macy Marek of Washington showed the champion spotted gilt. And Laura Yoder of Wellman showed the reserve champion Yorkshire gilt. The third place chapter award went to Washington, Wapello took fourth, and Wellman received fifth.